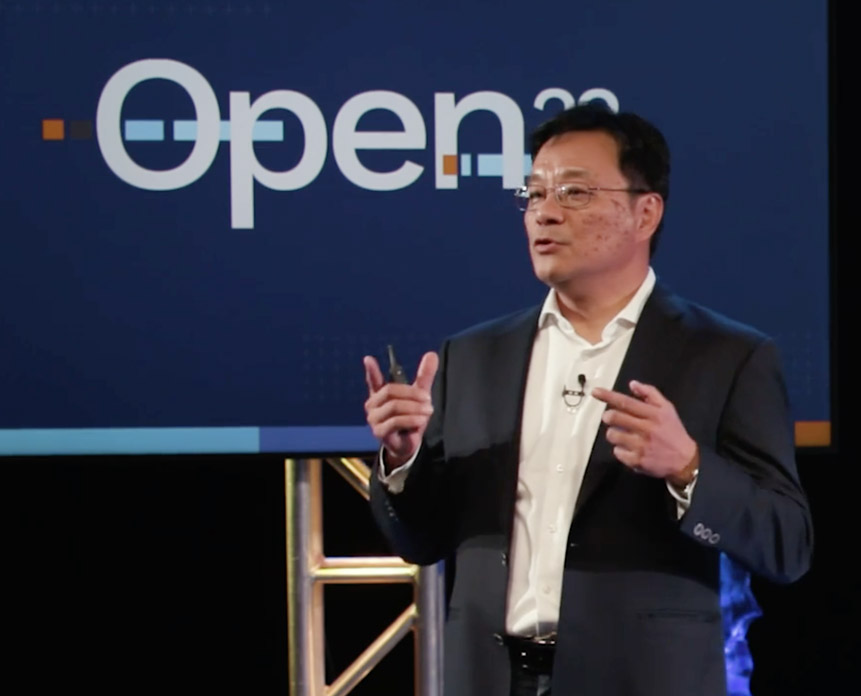 Open 22: an action packed recap
What a week! And just like that, we've officially closed Open 22, our second annual user conference! Three days, 18 sessions, and 35 experts later, we've exhausted all the different ways to make RevOps a SPEED, PERFORMANCE, or INVESTMENT multiplier.
If you've missed a session or two, or if you've missed the entire three days, worry-not! Here's my CliffsNotes, or as I've been educated by my younger colleagues, the SparkNotes, of the three-day revenue operations conference.
Read on and tune in!
Conference Day 1
On the conference opening day, we had the honor of having the legendary Chief Martech, Scott Brinker, kick off the conference for us. In his opening keynote, Scott took us through the evolution of Martech/Revtech, brought us into the world of Revtech 2.0, and introduced the important "Three A's (Aggregation, Automation, and Autonomy) of Revtech 2.0." Having experienced the era of Big Data myself, it's interesting to hear Scott referring to now as the era of Big Ops and that Big Ops is analogous to a large, fun, interactive water park rather than a placid (uneventful) data lake. If you couldn't make it, check out Scott's keynote.
Following Scott's opening keynote, our own fearless leader, Ed King, then took us on Openprise's journey to becoming the speed, performance, and investment multiplier in this environment of "more (channels), more (tech), and more (ops). In that same general session, Ed also announced the launch of Openprise RevOps Automation Data Cloud, the first no-code, full-stack data orchestration and automation cloud designed for RevOps builders.
Through a series of new product features, Openprise is now even better suited to enable end-to-end funnel automation, activate your entire (Rev)tech stack, and help you scale your RevOps team and become the Ops for your Ops team.
The conference then split into two tracks: Track A for Revenue Leaders, focusing on strategic initiative and road mapping, and Track B for RevOps Practitioners, zeroing in on the "how to" and best practices of the day-to-day for Ops. The audience got a chance to hear about how to put your full funnel on steroids with Josh Ren (Netskope) and Jasmine Chung (Openprise), the best of your enrichment strategy with Lizzie Perry (Zendesk) and Lem Lloyd (Openprise), and how to be a hacker in meeting speed, accuracy, and agility simultaneously with Anna Khan (8×8), Conrad Millen (Clari), and Emily Salus (Openprise).
My favorite moment of Day 1, is when Detrie Zacharias, while telling us about the Rimini Street story and how they turned theur Ops team into a strategic asset, also wished to put "making pizza" on Openprise's product roadmap. 🤣
Conference Day 2
On the second day of the revenue operations conference, Sangram Vajre of GTM Partners joined Openprise CMO Mike Ni as our opening keynote speakers. Sangram's framework, from his award-winning book MOVE: The 4-question Go-to-Market Framework, got us focused on the four fundamentals:
Market – Who should you market to?
Operations – What do you need to operate effectively?
Velocity – When can you scale your business?
Expansion – Where can you grow the most?
Mike and Sangram were then joined by two hot-shot CMOs, Mini Peiris (Doma) and Cindy Zhou (SecurityScorecard) to further the idea of transforming RevOps into a performance multiplier. In this CXO panel, The debate on what we should call the newly formed Ops team resulted in Mini coining the term "GOps" or Go-to-market Ops and garnered a few chuckles amongst the panelists. While they were having fun, the CMOs and CMO-turned-CEO panelists did not forget to give us a glimpse into their psyche, shared what really keeps them up at night, and discussed how the RevOps team can help the exec team by being the second most strategic role in the company.
Following the same format as the previous day, Clark Newby and Nick Rose (Hyperscayle) started the Revenue Leader's track by taking funnel math to the next level and explaining the practicality of funnel physics. We were grateful they did not go into "funnel calculus" or "funnel differential equations" for some of us not-so-geeky ones. Emily Salus (Openprise) and Craig Rutkowske (KPMG) then used an amusement park analogy to take us through a fun ride in the designing of a RevOps pragmatic roadmap.
Over on the RevOps Practitioner track, Tomoko Takeda (Zscaler) tackled the age-old dilemma of "who brought which opportunity in" with a well-thought-through attribution implementation. Ed Burton (Equinix), Rey Ong (Openprise), and Lovey Tolwani (Openprise) then closed up Day 2 with discussion on how to apply the agile methodology to RevOps.
Conference Day 3
The last day of the conference started with the launch of the Openprise Connect Partner Program. Years in the making, this formalized partner program launched with eight initial members: Dun & Bradstreet, Hyperscaye, KPMG, Linq Analytics, Ruler Analytics, SalesIntel, Shift Paradigm, and TAMI. Executives from Hyperscayle (Ben Mohlie), KPMG (Ryan Doubet), and Shift Paradigm (Justin Gray) joined Emir Elliott-Lindo on stage to discuss what an open ecosystem means to RevOps innovation.
Our CMO, Mike Ni, then came back on stage with Openprise customers Alicia Butler (SecurityScorecard) and Phuong Pham (BigID), along with Openprise Customer Sales Director Angelena David to deep-dive into the modern way to both farm and hunt in your install base. Yes, burgers, fries, and shakes made it into the official cross-sell/upsell discussion. During the same time on the RevOps Practitioner track, Openprise Product Manager Leigh Ann Gilson had Ching Chiang (Nutanix) with her on a fireside chat discussing the three facets of routing: lead management, account management, and deal registration.
As the last conference session, over in the Revenue Leaders track, Ryan Nelson (Openprise) hosted Ali Rastiello (Health Catalyst) and Nick Rose (Hyperscayle) to take us through the time machine of a merger and acquisition cycle and discussed RevOps's strategic role in an M&A. On the RevOps Practitioner track, Rob Meo (Splunk) also took us through a time-travel journey of an organization's growth and used the STARS model to help us identify our ideal tech stack.
See you next year!
Did it seem like an action-packed three-day revenue operations conference? Because it was! We're also very grateful for this very tight-knit and active Openprise RevOps community. For anyone who was able to join us live, I hope you enjoyed the show. And while the Open22 conference has officially ended, our connections continue. We'll see you in cities around the world and looking forward to hanging out in-person at Open23!
Recommended resources