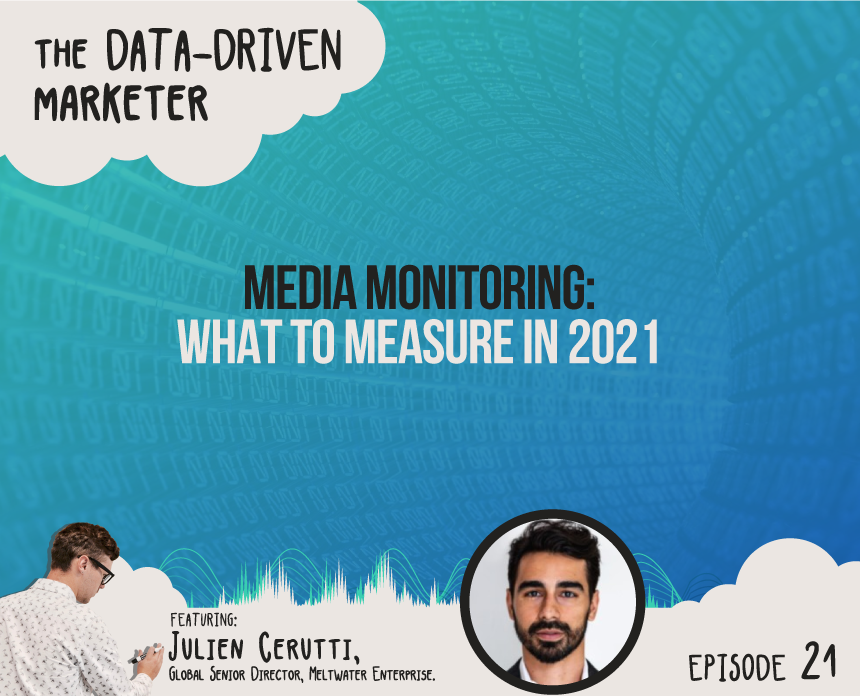 Podcast: what to measure using media monitoring
Media monitoring is a growing set of technologies that help companies make sense of all the stuff that's happening around their industries in the world of online communication. Technologies like social listening, sentiment tracking, reputation management, social influencer management, and consumer and audience insights give companies a deeper view into how their brand is perceived, and much more.
On this episode of The Data-Driven Marketer, our guest is Julien Cerutti, Global Senior Director, Meltwater Enterprise, the worldwide leader in online media intelligence, who tells us more about media monitoring technology.
Media monitoring and intelligence transformation
One thing we can all agree on is that intelligence and data analysis has totally transformed the way we communicate. "The way information spreads has fundamentally changed," Julien explained. "Accordingly, communication needs to change to address these new market dynamics." As communication technologies advance, companies are getting a more nuanced context for the data these technologies provide. And within that better context, you can start to unravel patterns, watch market indicators, and help influence your decisions.
New strategic goals arise from media monitoring results
Companies need to understand these technologies and what they can do. For example, it's possible to get investment advice simply by watching different companies' posts on Twitter, YouTube, LinkedIn, Facebook, and even Instagram. Watch for indicators that fit your interest profile. You're probably looking for announcements of high-end partnerships, series funding, headcount expansions, or maybe even certain executive hires. Based on that, create an index score of organizations to narrow down the top five within the last six months of data and invest accordingly.
Another way to use that information to support business decisions is to pay attention to insights from monitoring other companies' social activity and sentiment. If you're in the automotive industry, you'd want to be hyper-aware of what your competitors' customers think about various makes, models, and features, and structure your offerings around those opinions.
"That's a simple example of how we can look at something as simple as PR measurement all the way to really advancing potential strategic decisions for a corporation," Julien said.
Media monitoring: what to measure?
There's no one-size-fits-all for what to measure since the structure must be nuanced to the business. There are traditional measurements and strategic measurements, Julien said, both of which can be valuable to track in media monitoring technology.
Traditional measurements center around your reach and your publications—which aren't at all bad to know.
Strategic measurements, however, answer deeper and more penetrating questions:
Are we hitting the specific publications that can broaden our audiences?
Are we hitting specific ones that we already have targeted?
How are we implementing our customer segmentation?
What is the sentiment within those publications?
Do we have benchmarks we can utilize toward future indicators with new products?
A quick word on sentiment. "Sentiment" refers to whether an entire document is perceived as positive, negative, or neutral.
But even that has become more sophisticated. Now we examine sentiment at an entity level and at the sentence level, too.
Think of it this way: you may see sentiments that say, "I love Apple as a company." And then you also see sentiments that aggregate to "my iPhone is terrible." It's a confusing mixed message in which the message is positive about the company but negative about a particular product the company makes.
"How we approach that would be having sentiment analysis frameworks, where we provide definitions as to what we define as a positive article, then we create a consistent framework that everyone adheres to," Julien said.
Building out your 2021 dashboards
Before you can craft a CMO dashboard that's on point, you need to know your narrative and what you're driving towards in 2021. "At a strategic level … how do we structure the data to tell that narrative and tell that story?" Julien asked. CMO dashboards help you tell that story and give you a framework to adhere to the messaging strategies.
"Based on what online media can provide, what would be those ultimate insights that would really move the needle for you?" Julien asked. "Structure the data based upon that."
Building your dashboard also depends on the stage of business you're in. If you're in the early stages, focus on your relevant peers in peripheral markets—not your competitors; not yet. Benchmark against your peers' approaches towards your common market.
"It's going to be dependent on, strategically, what is your approach toward market? What are you trying to do with your audiences? What story are you trying to tell? What insights are you trying to pull that would help inform decisions?"
Get in touch with Julien on LinkedIn.
For more interviews from the Data-Driven Marketer podcast, check us out on Apple Podcasts or at this link.