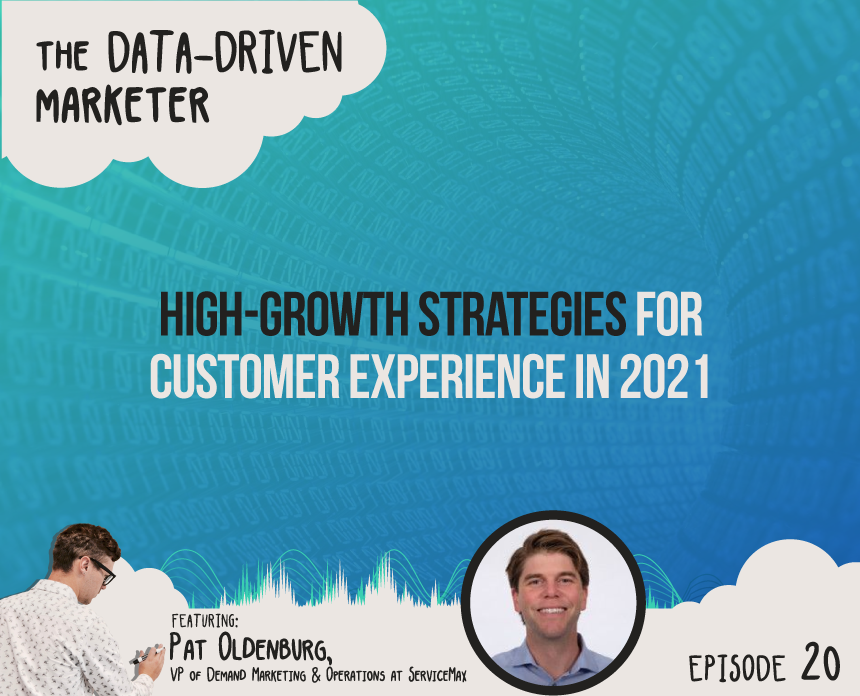 High-Growth Strategies for Customer Experience in 2021
We're all a little tired of communicating through our screens. As a result, we've seen a significant drop in attendance rates at virtual events. What are some high-growth customer experience strategies we can implement to help keep people engaged online—even when they're trying to cut back their screen time?
Recently, on The Data-Driven Marketer, I had a chance to speak with Pat Oldenburg, Vice President of Demand Marketing and Operations at ServiceMax, about the outlook for virtual events and engagement in 2021.
He shared that ServiceMax has navigated past the small, scrappy phase as a growing company to the massive, global organization phase—and for 2021, they're back into the heavy-growth mode as a more mature organization.
"Our go-to-market strategy has adjusted and pivoted as a result," Pat said.
Let's dive into what's changed in 2021.
The digital event slump
Before 2020, ServiceMax's event mix was split: about 40% of their events were digital, 40% were in person, and 20% used other channels.
Last year that all had to change. First, ServiceMax moved heavily into various types of virtual events, chiefly drop-in coffee talks across time zones to engage the community.
Other online customer retention strategies included:
Biweekly product demos
A product-agnostic monthly innovation series
Two virtual tentpole events—massive events almost as resource-heavy as in-person events
Pat was clear about the goal of all of these virtual events: engagement. And that looks different in 2021, more so even than it did in 2020.
Pat related his personal experience attending virtual events this way: In the past, if he paid for it, he was going to attend, just as if it were in person. He doesn't, however, hold this mindset anymore—and neither do most of us.
Pat believes that reliance on on-demand events caused companies to abandon the real-time, live, online experience. And that, he says, is the reason that registrations for virtual events may have stayed the same, but attendance rates have dropped. "We need to get creative with what we can offer in real time that boosts the incentive to be there in person when the event is happening," he said.
That's the key for virtual events in 2021—motivation to attend the event live.
High-growth strategy for ABM and direct mail
A direct mailing strategy is both more important than it was last year— and also totally different.
Problem #1 — People don't want to hand over their home addresses.
The high-growth customer experience strategy to combat this issue is to provide a secure portal that pipes the addresses directly to the delivery company. ServiceMax never sees the prospects' addresses and can't access them now.
When they started to do that, their response rate jumped from under 10% to over 60%.
Problem #2 — People expect highly-tailored emails.
Cue the next high-growth online customer retention strategy: triggered direct mail.
"Working with the account executives, we've set up triggered direct mail that sends things like content on how to build a business case, content on our customer case study results, and a video mailer that showcases customers talking about their experiences," Pat said.
As the prospect moves further down the sales funnel, the content they receive becomes more detailed and in-depth. It's been an enormous win for conversion rates throughout the year.
The attribution puzzle
Pat's primary focus is pipeline-sourced opportunities. After all, they've had leads in the system for almost 12 years, so it's easier to capture that last significant success.
Multi-touch attribution is becoming increasingly important as a high-growth strategy. Not every effort on the demand side or even on the brand awareness side of RevOps is geared toward opportunity source. ServiceMax studies the entire experience from start to finish—from when the lead first came into the system to when it closed as a current customer.
"All the touches get broken out and divided equally," Pat said.
He takes great care to add every person involved in each touch, to demonstrate awareness that a lot more people are indirectly involved in an opportunity than most people realize. "Whether you're a lead that just filled out the demo form, or if somebody ordered you a nurture email and there's an opportunity in play, you would count within this attribution," he said.
This method fills in even more pieces of the attribution puzzle to create as complete a picture as possible.
Sales and marketing alignment
Sales and marketing alignment starts from the top. "It's making sure that at the very, very most basic point that we are collectively agreeing on the revenue targets, the bookings goals, the percentage of sourced opportunities from each team—and holding each other accountable for that," Pat said.
At ServiceMax, Pat's high-growth strategy is a quarterly wave, segmented by sub-industry, and marketing warms up accounts. Then, SDRs follow up on leads in an orchestrated way. The joint ownership of the field marketing and operations strategies has increased the rapport between the teams.
"When we're a fully remote company, it's very easy to be disconnected," he said. "It's incredibly important to be not just transparent, but also just constantly in communication."
Get in touch with Pat on LinkedIn or by email.
For more interviews from the Data-Driven Marketer podcast, check us out on The Data-Driven Marketer or on Apple Podcasts.
Recommended resources