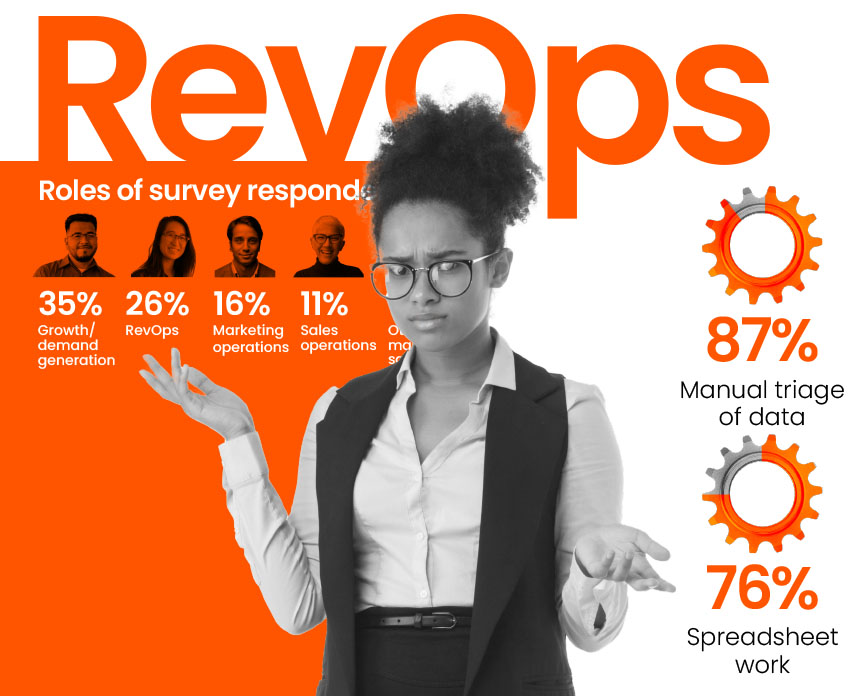 Overloaded Ops Teams Say Better Data, Automation Would Improve Your GTM Planning in 2023
Marketing and sales teams are short-handed and badly in need of automation tools that improve data quality, streamline processes, and drive revenue growth, according to recent research from Demand Gen Report and Openprise.
Overcrowded tech stacks and poor data quality are the biggest issues facing operational teams in their GTM planning 2023, according to the survey of 100 sales and marketing operations professionals (63% at the director level, 21% C-suite, and 16% VPs).
Almost two-thirds of respondents report having teams of six or fewer, and 65% are wrangling tech stacks with 10 or more tools—more than 30 for 10% of survey respondents. More isn't necessarily better when it comes to revenue-driving tools: overcrowded tech stacks lead to dirty, disconnected data, and can complicate processes such as lead rating and routing. In fact, more than half of respondents report struggling to separate meaningful signals from their data in order to determine next steps. Despite all the tools available to them—or perhaps because of them—all respondents report spending 55% of their work week on day-to-day tasks that are not automated.
Wherever they are in their RevOps journey, most agree on the benefits of better, cleaner data and automated processes. Research also shows that best-in-class operational teams are focused on overcoming silos for better account insights and growing revenue faster through ABM. Respondents said they had turned 50% of operations jobs into tools that sales and marketing stakeholders can access on their own for a more connected, 360-degree view of the buyer's journey.
See how your team metrics compare: download the full survey.
About the research: The report was based on data from a survey of 100 B2B marketing and sales professionals, most of whom are based in the United States, published on December 12, 2022, by Openprise and Demand Gen Report.
Recommended resources