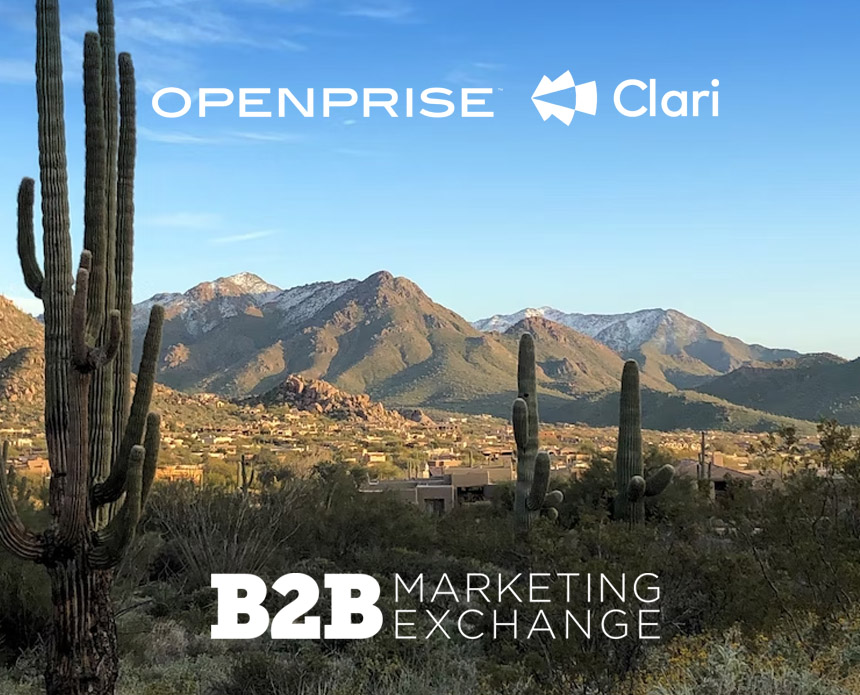 Going to B2BMX? Hear how Clari optimized their GTM spend with Openprise in a live version of this success story
One of the biggest challenges B2B marketers struggle with is data fragmentation and the disconnected and manual processes that come with it. The different approaches to solving this problem are a primary focus of the 2023 B2B Marketing Exchange conference, which will take place February 27 through March 1 in Scottsdale, AZ. On Monday, February 27, Openprise and leading revenue operations and sales analytics company Clari will co-host a deep-dive session into the subject and discuss solutions and strategies for overcoming your fragmentation challenges.
In the session, Making Strategic Investment Decisions: Clari's Practical Approach to Good Data & Attribution, Clari Director of Growth Operations Conrad Millen and Openprise Founder and CEO Ed King will walk you through Clari's journey and how the company partnered with us to remove silos, improve data quality, and automate essential processes for greater go-to-market (GTM) visibility and efficiency.
Data silos and complex manual processes blocked Clari's vision
In many ways, Clari Revenue is an outlier with a sophisticated approach to incorporating advanced data models into its decision-making. Still, its struggles with fundamental issues like data quality and funnel fragmentation will resonate with all B2B marketers. Clari was initially stumped by the seemingly simple problem of how to scale critical campaign data syncing, such as UTM values, into its Salesforce CRM system. The synced data is essential to attribution modeling and Clari's overall strategy to maximize its campaign-spend efficiency. But their incumbent point solution was too manual, "black box," and fragile; the breakdowns and lack of visibility that followed threw the whole program into doubt.
Openprise gives Clari the data and advanced attribution modeling it needs to optimize its campaigns, identify new opportunities and focus its efforts where it will return the greatest impact and value.
Clari gets a full-funnel view for advanced attribution
With the help of the Openprise RevOps Data Automation Cloud, Clari Revenue was able to automate and scale the sync in real time. Instead of manually mapping and manipulating the data, Openprise uses webhooks and explainable AI to clean, match, and write the data to the correct, corresponding Salesforce records, giving Conrad and his team the reliability and full-funnel view they need to build their advanced attribution models and execute on the GTM strategy. The Openprise platform, with its data orchestration layer and comprehensive library of built-in recipes, opened both Conrad's eyes and a door to a deeper partnership between the companies.
Attend the B2BMX conference session to hear the rest of the story and learn more.
Join us at B2BMX 2023
B2BMX is the premier annual event for business marketers. This three-day conference is a great way to stay up-to-date with the latest innovations, technologies, and strategies while also networking with other marketing leaders from across the industry. Visit the official B2BMX site to register for this year's conference in Scottsdale, AZ. If you're already registered or planning to attend, to join us and our partners from Shift Paradigm for great food, drinks, and conversation on Tuesday, February 28, at Mowry & Cotton, located on-site at The Phoenician.
Recommended resources