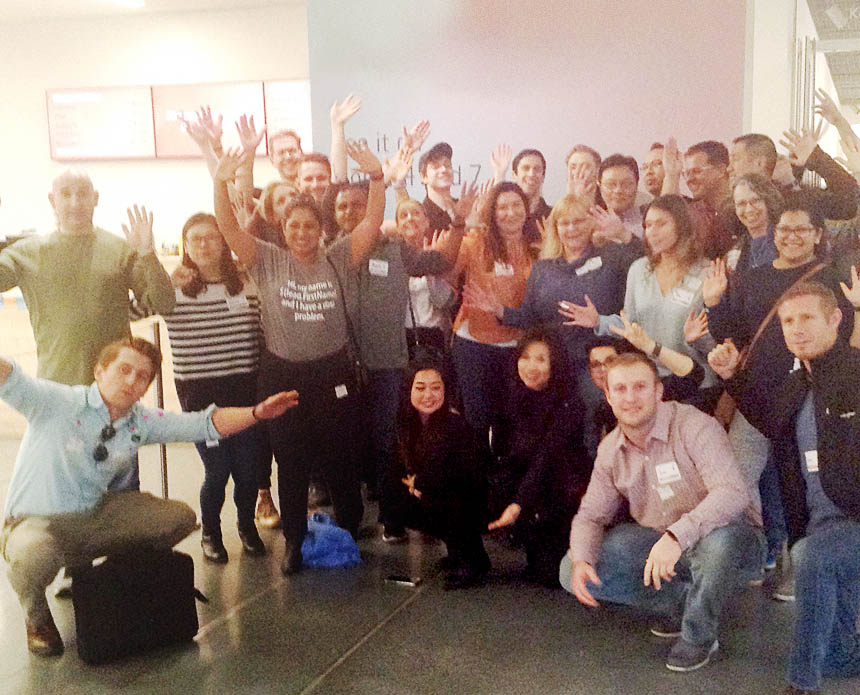 OMG, we're an Inc. Best Workplaces finalist for the third time in a row!
You can almost feel the collective gasp of excitement from the entire team as we Zoom from our home offices.
It's a thrill—and an honor—to once again make the list on Inc.'s Best Workplaces of 2021. According to Inc., this year's field of entries was the most competitive they've ever seen; thousands of "remarkable companies" applied. To apply, companies submitted essays and survey responses about company culture, including employee engagement, career development, benefits, confidence in the company's future, and leadership. Only a fraction made the cut. So making this Inc. Best Workplaces 2021 list is no small feat.
When we were named an Inc. Best Workplace last year, I wrote, "We all work hard to maintain our company culture in the best of times—so to receive this recognition now in these challenging times is a much-appreciated validation of our efforts—and to be honest, maybe even more meaningful."
These challenging times? Back in May 2020, we had no idea. No idea of what a "challenging time" truly meant. But that statement is no less true today. And frankly, it's our culture that's helped us continue to thrive, even though we haven't been physically able to be together as a team in over a year.
In a 2019 post on how our company culture supports a balanced workforce, I wrote, "These values are the starting point for every interaction we have, with our customers, with each other, with our partners, and with our investors .… To make sure we live these values every day, we've named each conference room after one of our values. Not only do we work with trust, respect, and openness, we work IN Trust, Respect, and Openness. The names on the rooms are a daily visual reminder of what we stand for."
How has our culture—and the corporate values that shape it—helped us weather the storm that is COVID-19? Let's break it down by each of our values.
Commitment
Making sure that team members have access to learning and development opportunities is vital to sustaining an engaged workplace.
And, 92% of employees agree that our leadership is committed to providing opportunities for growth and development. So far this year, there have been 11 promotions within the US-based team, with more to follow.
Empathy
Empathy can be tough to cultivate. You won't find it in the employee handbook.
But it's a key factor for employees who are considering where to work, how hard to work, whether to stay with their current job, and even the salary they want. Further, employees who feel valued by their organization are far more likely to be engaged. According to Inc., this one factor proves to be one of the largest drivers of employee engagement year after year.
And while empathy is a great skill to have, it's also great for the bottom line—driving business impact and performance. BusinessSolver's 2020 State of Workplace Empathy report found that:
74% of employees said they would work longer hours for an empathetic employer
80% would switch companies for equal pay if the employer were more empathetic
57% would take a pay cut to work for an empathetic employer
According to our Inc. survey, 100% of our senior leaders value people as their most important resource. So unlike many organizations, I'm proud to report that at Openprise, empathy runs high.
Openness
Communication and transparency are part and parcel of our culture. Every month, Ed King, our founder and CEO, shares a state of the company with the latest sales, churns, and critical metrics.
And when we say we have an open-door policy, we mean it. We strongly encourage working with colleagues across departments. No need to make formal appointments. Need help with something? Ask and you'll invariably get what you need.
As a result, 94% of us are highly engaged. These are the team members who are excited about the company and its direction, and intend to stay on the ride!
6% of us are moderately engaged. I can't fault these folks. After all, we've been in a pandemic, and I can't speak for anyone's personal situation. But despite that, EVERYONE is engaged in their work, and excited about the company and its direction.
For some extra context, the top-scoring finalists in this year's Best Places to Work have created a workplace where 97% of employees are engaged. So we pretty much smashed that.
Respect
R-E-S-P-E-C-T is all about treating people with grace and dignity.
And never is that more important than when something goes wrong or someone makes a mistake. Mistakes are an inevitable aspect of working with other humans. So at Openprise, when programs don't meet expectations, we audit our processes rather than assign blame, which can lead to scapegoating among employees.
Trust
There are a lot of ways to build trust in the workplace. One way is to share information, see Openness. Another way to engender trust is to empower staff to "own" their roles and responsibilities—a must with any fast-growing startup like ours. Here's a story to illustrate:
Pre-pandemic, we balanced community and flexibility with a 2/3 workweek—two days in the office, three days remote—giving our SF Bay Area employees the ability to choose their work arrangements on the three days they weren't in the office.
When the lockdown orders came down back in March of 2020, we thought we'd be working from home for a few weeks, tops. Who knew that more than a year later, we'd still be fully remote? But other than seeing our colleagues (and their various home environments or skill at selecting "fake" home interior photos) on Zoom, we haven't missed a beat.
That's because we'd already built the trust needed to handle an all-remote environment. The move to remote was smooth because we were all used to working that way. Everyone was engaged and already set up to work from home. The biggest challenges? Cleaning the fridge, playing with the dogs (We set up an OpenPaws Slack channel to share photos of our new office mates. Talk about another time sync distraction fun way to take a lil' break.)—but from a cultural standpoint, it wasn't a giant leap.
What say the people?
The Best Workplaces survey also gives employees an opportunity to respond to several open-ended questions. Our Openprise team submitted dozens of responses. Here are just a few:



And last but not least, bring on the fun
For many of us, this past year has been a lot of things. And fun probably wouldn't make the top five. So it says a lot—about our leadership, our teams, and our culture—that despite everything that's happened during this legit-crazy year, the word most often used to describe the company was FUN.
So here's to another year with Openprise—where everyone is important. We've learned to work and play together, respect each other's skills, quirks, and personal spaces. Where we all strongly believe in the work we do every day. Where we solve problems together, and admire each other's pets. Where "open" is the first part of our name. We're on this ship together, all while helping to make our customers' lives better.
Thank you, Inc. for selecting us for a third time! And thank you to our employees, for letting us know how they feel about Openprise.
Check out our latest press release to learn more.
Recommended resources