Data Orchestration
Automate Business Processes Across Your Company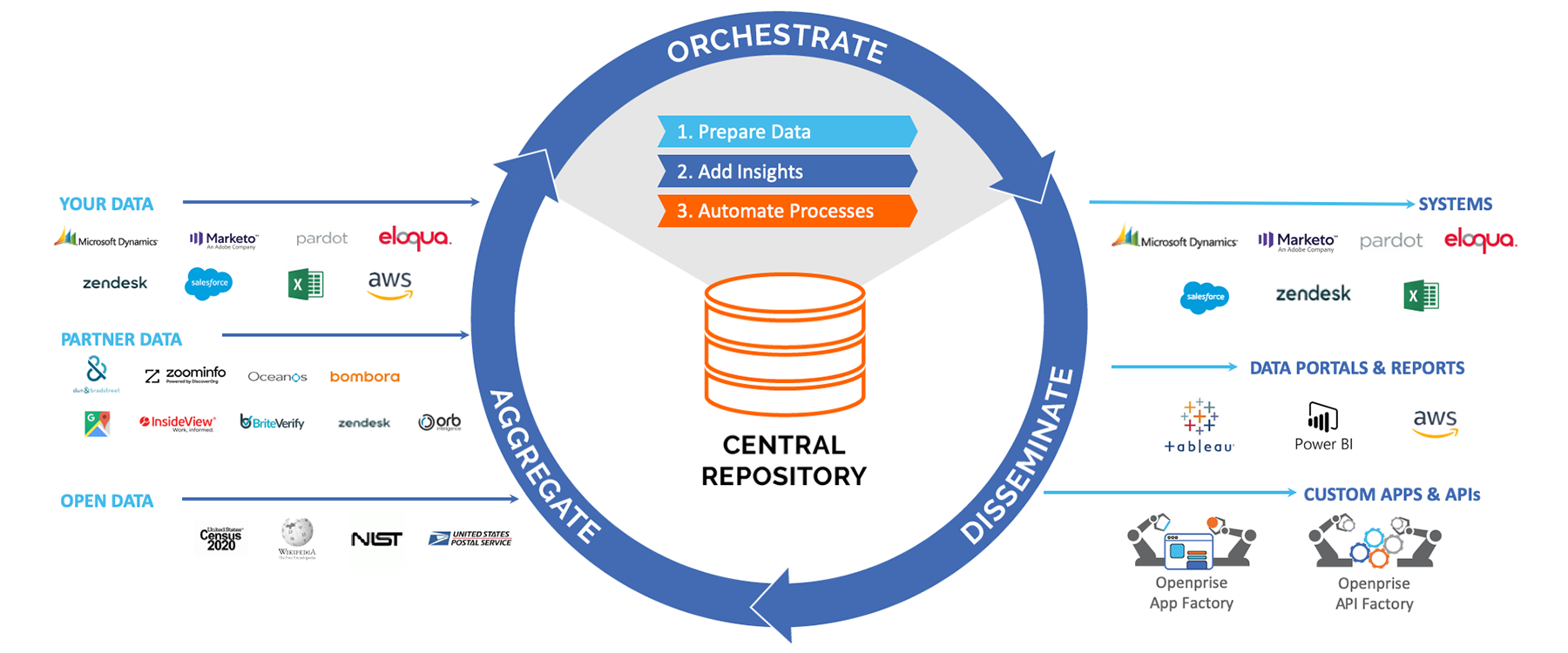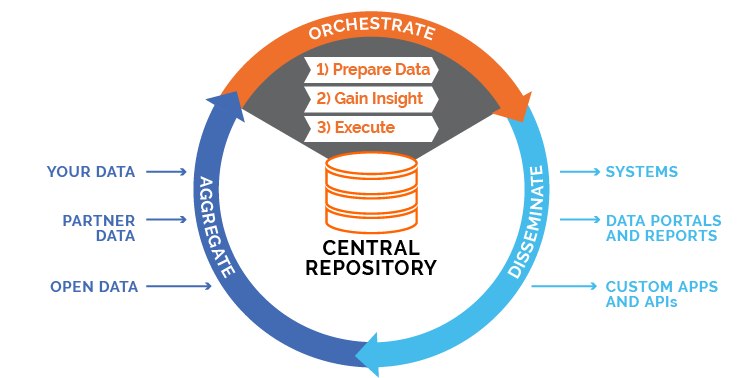 To see value from your business technology investments you need two things: clean data and consistent, scalable business processes.
But let's face it. You probably don't have either. To fix that, you could cobble together a dozen point solutions in an unmaintainable "Frankentecture." You could punt the problem offshore knowing quality and SLAs suffer with folks that aren't any more excited about mind-numbing manual tasks than you are. Or, you could choose Openprise.
Use Data Orchestration to Automate Everything
Openprise Data Orchestration and CDP solutions automate all your business processes to deliver a crystal-clear, 360-degree view of customers and prospects across your entire martech stack. Openprise is a single, no-code platform that combines the best practices, business rules, and data you need to automate hundreds of processes like list loading, cleansing and enrichment, segmentation, account scoring, and many more. With Openprise, you can boost campaign performance, scale up your operations, and consolidate your Tech stack.
What Do Data-Driven Teams Do with Openprise?
Nothing works when
your data's a mess
Fix typos, formatting, and other errors to improve personalization, scoring, segmentation, and routing.

Standardize fields with your unique values. No more creating 50 keyword filters to segment on a single field.

Dedupe and merge leads, contacts, and accounts based on your company's criteria. Get attribution, routing, and scoring you can count on.

No more lead pinball. Create sophisticated lead routing logic based on geography, product interest, previous account history, partner involvement, and more.

Get the fundamentals down pat for lead routing, attribution, lead scoring, and account scoring.

Convert Leads to Contacts

Automate mopping up after your reps since they don't get compensated on data hygiene.

Get a single set of values across systems. Make that 360-degree customer view a reality.
Focus on the
Right Targets
Simplify your tech stack with Openprise
Go live faster, stay nimble, and finally get that elusive 360-degree customer view.

Derive key fields like job level and job function from job title to make lead scoring consistent and meaningful.

Test multiple scoring models simultaneously with a scientific approach.

ABM Activity Analysis

Show Marketing's contribution to revenue, whether your sales team bought into an ABM or not.

Orchestrate how open source and 3rd party data enters your systems and how it's standardized to your specs.

First touch, last touch, and multi-touch attribution. Know what campaigns are delivering.
Automate the busy and boring work so your team can focus on the strategic stuff
Transform any business process into a custom API with just one click.

Automatically clean and standardize a spreadsheet and upload to your CRM.

Control the flow of EU data out of your company.

Custom Process Automation

Stop wasting hours every day on tedious, manual tasks. If you can map out a business process, Openprise can automate it.

Bring in data from dozens of third parties to fit your unique requirements.

Take advantage of our managed service to set up and maintain your Openprise configuration.

Data integration with the systems businesses use most.
Data-Driven Leaders Rely on Openprise
Improve Segmentation, Lead Routing, & Scoring
Get Several Hours of Your Day Back
Make Data a Strength and an Asset