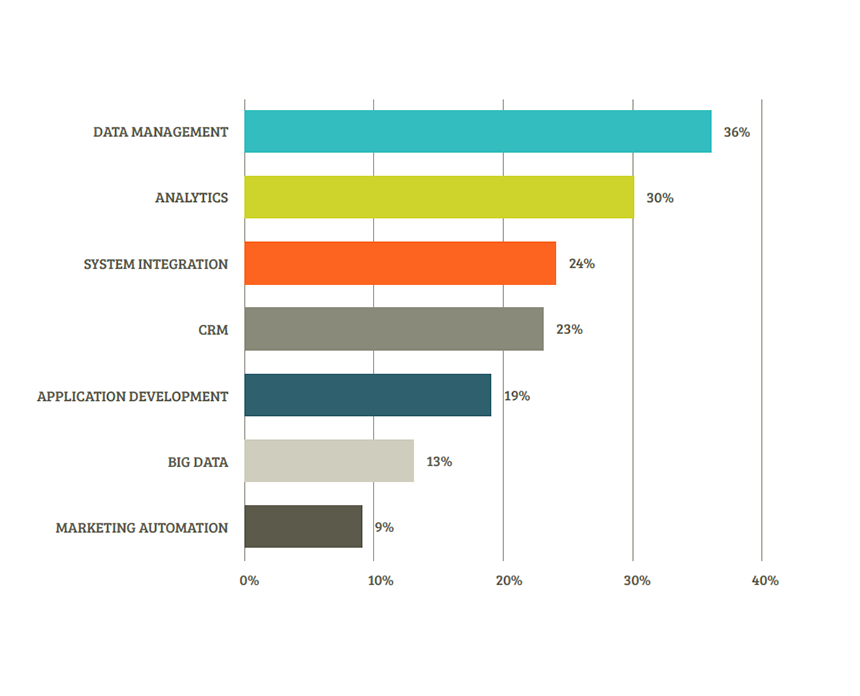 Industry
The Most Marketable Marketing Skills In 2016
This week Openprise published the inaugural MarTech Data Report examining the state and trends associated with marketing operations and marketing data. We intend to publish this report annually, helping marketing ops and demand gen professionals understand key trends in their profession and how their organization compares with their peers. You can get a copy of the report here: http:localhost/2016-martech-data-report
One of the questions we asked the 400+ survey responders was which key skill sets top their hiring priority for 2016, including permanent position, contract position, and agency hire. The result includes findings that are both expected and surprising.

At Openprise we talk to marketing ops and demand gen folks all the time, so we see their struggles and hear their priorities. Overall all we have a pretty good sense of what skill sets are in demand, or at least we thought we knew.
The Not-So-Surprising Findings
Data management and analytics come in at number 1 and number 2 in the ranked results. This result matches what we see within our customer base. With the avalanche of marketing data growing at an exponential pace, marketing organization across all industries and company sizes are struggling with managing and making sense of the data they have collected and purchased. At the end of the day, one of the main drivers of investing in technologies like a Marketing Automation Platform (MAP) is to gather lead and engagement data that can help you be more effective at selling and campaigning. If you cannot trust the data you have or make sense of it, then the marketing team has a tough time justifying the return on investment for acquiring these technologies and data services.
System integration at number 3 is also not a surprise. The explosion of marketing technologies (MarTech) has created a system and data integration challenge that frankly most CMOs have not signed up for and are not equipped to take on. Every piece of technology you add to your MarTech stack introduces additional issues around data compatibility, duplication, and correlation. The magnitude of the problem also grows exponentially. Integrating 4 technologies is more than twice the complexity of integrating 2 technologies.
Application development at number 5 is expected. Few marketing teams can afford to do customer application development. If fact, we are somewhat surprised application development is not dead last. This is most likely because responders included their website development resources and webmasters into this skill category.
Big Data is second to last is not surprising. Big data is usually defined as terabyte and petabyte size databases. Big Data is primarily still a problem limited to the Fortune 2000 companies and technology vendors. Most marketing organizations that deal with data from Customer Relationship Management (CRM), MAP, content, advertising, and social media platforms are dealing with megabyte and gigabyte range databases size, what we refers to as "medium data" or "Goldilocks data". 95% of the companies do not have a Big Data problem.
The Surprises
The biggest surprise is how marketing automation skill is dead last in the list. That should be a surprise to you if you have recently tried to hire a marketing manager or system administrator with Marketo or Eloqua skills. It was likely a long and painful search. A number of plausible explanations for this surprise finding:
Most marketing agencies now have a team well stocked with Marketo and Eloqua skills. While it may still be hard to hire permanent resources, if you are in a bind but have the budget, you can always find an agency that has a resource you can contract.
As the adoption of MAP reaches critical mass, many companies have gone past the ramp-up phase and moved into operational phase, which can reduce the number of people needed to configure and manage the MAP.
Many marketers are picking up "good enough" MAP skills by simply working with it on a daily basis. While these folks are not certified experts, they know enough to get by. One of the other findings in this survey is that the average usage of MAP is still fairly basic, which makes it possible to get by with just basic MAP skills in-house and occasionally supplement it with agencies or contractors.
The next big surprise is CRM skill is at a fairly high #4 spot, way above MAP skill. Given that most companies deploy CRM before MAP and are further down the maturity cycle with CRM, you would expect most companies are in good shape with their CRM skills. There are also way more people skilled with Salesforce than Marketo or Eloqua. The most plausible explanation here is that the number of companies with CRM is simply much greater than the number of companies with MAP.
What Does This Mean To You?
If you are hiring
If you are hiring for skills ranked in the top half of this list, namely data management, analytics, and integration skill, expect the search to take a long time. You may not find the exact skill sets you desire, and it may cost you more. Things you can do to proactively mitigate this challenge:
Plan for extra time and budget. Expect to get into a bidding war for talent.
Look for data and integration technologies to make your team more efficient. This means automate as many repetitive tasks as possible using technology and let your scarce manual resources focus on tasks that actually require a brain for judgment and creativity.
Look to partner with an agency that can supplement these skills in short-supply. Data management and integration skills are not typically strong suits of marketing agencies, so you may have to partner with IT consultancies. If you can find an agency that can provide you both marketing and technical skills, it would make an ideal one-stop shop.
If you are looking for career opportunities or advancement
Nothing turbo charges a career, not to mention $, like possessing a scarce and in-demand skill. Talk to any programmer or data scientist in the Silicon Valley or any Marketo Certified Expert. If you have the drive and the chops to learn a new skill, get on the data and integration bandwagon now. Learn to leverage technologies to bridge any technical skill gaps you have. Don't know how to write SQL? Learn how to use the popular data automation, data preparation, and business visualization software.
If you work for an agency
Increasingly your clients will favor agencies that can bring them both marketing and technical expertise. If you want to offer truly differentiated one-stop shop service to your clients, you need to add data management and system integration skills to your team. Just like you had to add Marketo and Eloqua skills to your bench the last few years, you will have to further extend your technical team to include data management, analytics, and system integration skills. If you already have those skills or are looking to develop these skills, contact us at Openprise about our Agency Partner Program (http:localhost/company/agency-partners).