Uncategorized
Key Takeaways from Oracle Modern Customer Experience (MCE) from a Die-Hard Marketo Summit Groupie
We Marketo users are as close to a cult as they come in enterprise software. Many of us have attended Marketo Summit for many years and look forward to catching up with friends and former colleagues there, as well as hearing the latest and greatest from Marketo.
So, it was with mixed feelings that two days into the Marketo Summit I hopped on a Vegas-bound plane chock full of marketers and salespeople to help our team exhibit at Oracle Modern Customer Experience (formerly "Modern Marketing Experience") as a part of our launch of Openprise Data Automation for Eloqua.
I'll confess that I'm not actually new to Oracle or Eloqua. I inherited an Eloqua instance 15 years ago when many current Marketo users were more obsessed with SAT scores rather than lead scores. I noticed that even today there are still UI relics from back then, like the steel blue headers on some of the screens. Turning the Wayback Machine dial even more to the left, at one time I ran product marketing for Oracle Sales solutions for 3i and 11i, when our eye candy was a mobile solution for Palm and Windows CE. All of that is a distinct memory, though, and I've been bleeding purple for years.
For those of you that have been drinking the purple Kool-Aid as I have in recent years, here's a glimpse into how the other half lives at Oracle Modern Customer Experience (MCE):
Messaging Hits & Misses
Marketo Summits have always been high-energy events. ISVs and consultants headed into Sunday's pre-Summit Partner Day wondering if the new leadership was made of the same stuff that made Jon Miller and Phil Fernandez legendary. After the Partner Day and the first day of the main event, it was clear to everyone that Marketo was in good hands with the vitality and vision we needed to hear from execs like CEO Steve Lucas. We learned about exciting acquisitions like ToutApp, and Cheryl Chavez shared news on performance enhancements and new REST APIs. The only misstep in the first two days was an oddly placed, sales pitch from Charles Philips, Chairman and CEO of Infor, during the General Session that left many wondering why he was there and what to read between the lines. Even Marketo forgets the "know your audience" mantra once in awhile.
While the Marketo Summit keynote kicked off with a team of dancers drumming on a huge "Marketing Nation" sign, this seemed entirely in character for a high-energy Marketo event. Oracle MCE, despite its Vegas location, started out as a much more somber affair. In the keynote, Smarter Customer Experience: Data Driven and in the Cloud, Mark Hurd, Oracle's CEO, went through the math in explaining how little money Fortune 500 CEOs actually have to invest in new programs to capture new customers and how after a bad personal experience with a car rental agency he personally declared that all 143,000 Oracle employees weren't allowed to do business with that company. His message was that integrated systems that better understand customers (and can score them better) can avoid moments like that. That was fine for the attendees focused on customer service, but his message fell a bit short for all of the marketers attending the keynote, who were largely left out of his antidotes.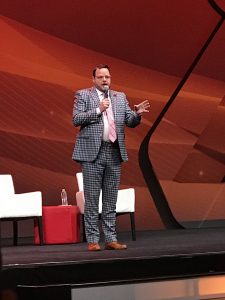 "People power marketing. Period"
Oracle demonstrated that it could bring some of the sharpest minds in marketing to their event, and the MCE Marketing Cloud keynote delivered on the excitement and energy marketers expect. In one of the most interesting and inspiring sessions at MCE, Jay Baer, President of the agency Convince & Convert, discussed the noise that marketers face and asserted that, "The lie is that our customers are too busy to engage. It's code that what you're putting in front of them is not relevant enough. Relevancy creates time and attention – it's the real killer app." He emphasized that the answer to the relevancy issue isn't to buy more tech, it's to better understand our prospects and deliver pertinent messages at the right time in the right manner for them to digest. We're behind him all the way with that message!
"The future belongs to the companies that capture their customers' imaginations"
Justin Cox, Director of Strategy at Heat (the ad agency, not the basketball team) cited some great statistics about how difficult it is to cut through the clutter, including one statistic that 68% of people can't remember a single TV ad the day after the Super Bowl, and that people are exposed to 1,500 ads every single day. He even shared that his agency made some of those Super Bowl ads. His guidance to all of us who compete against thousands of other MarTech companies for share of mind was:
Be entertaining – In this age, it's expected. He went on to share some great examples, like some messages on a morning cup of coffee.

Capture "share of culture" – Participate in the culture of your audience. Being targeted isn't enough. His example of a face in a Taco Bell taco is tough not to remember.

Be real time – Consumers expect brands to be up to the minute. Two-thirds of all time spent with digital media happens on mobile.  Lesson learned—I should've been writing this post during his session!
Cox ended his session with the assertion, "The future belongs to the companies that capture their customers' imaginations." In a market where most MarTech companies have similar brand elements and similar messages, we all need to work harder in following his advice.
Purple v. Red: Different Color, Same Message?
When I mentioned to an attendee that I was thinking about writing a post about the differences between Summit and MCE, I heard back, "One's red, one's purple, they're pretty much the same, right?" To that point, I'd have to disagree.
MCE attendees tend to be a bit older, tend to be from larger companies, and are less likely to be in Tech. I had some great conversations with very sophisticated marketers in industries like roofing materials, materials testing products, and petrochemicals. MCE audiences seem to think about projects in terms of timeframes longer than a few months, and seem to be more interested in engaging the broader team outside of marketing. I also saw a lot more suits and less tee shirts, and not just among the vendors.
They also seemed to be less enamored with the next new MarTech shiny object and more interested in ROI. Sure, they were equally interested in AI and other hot topics, but they were most focused on solving their specific business problems.
More than a few people who stopped by the Openprise booth sat down and invested more than 15 minutes digging into their business issues and discussing how we could solve them. That's what made the Openprise team so excited to be there and so thankful we made the investment we did to work with Eloqua. We met with a lot of sharp marketers that were really excited about how our solution can help them.