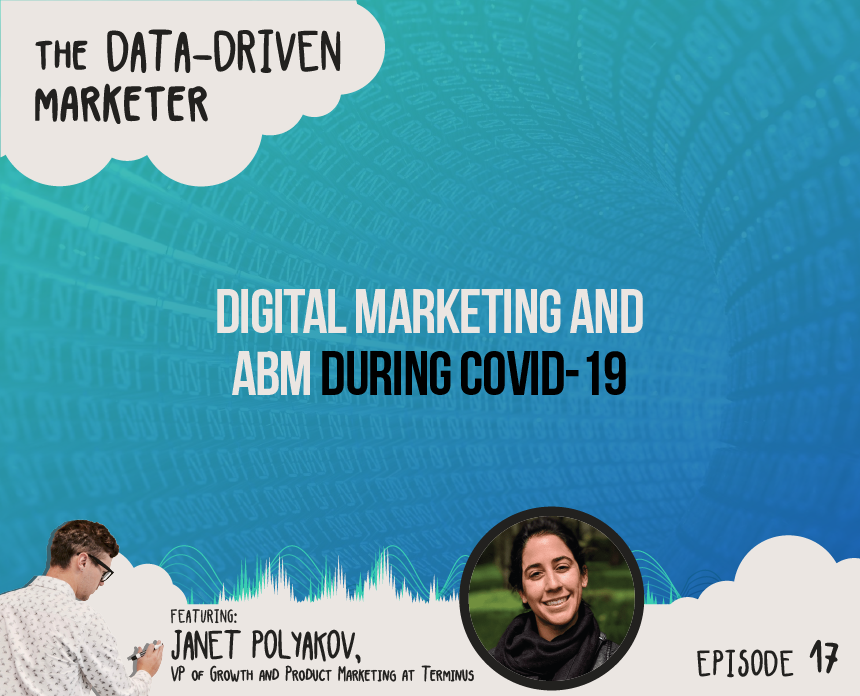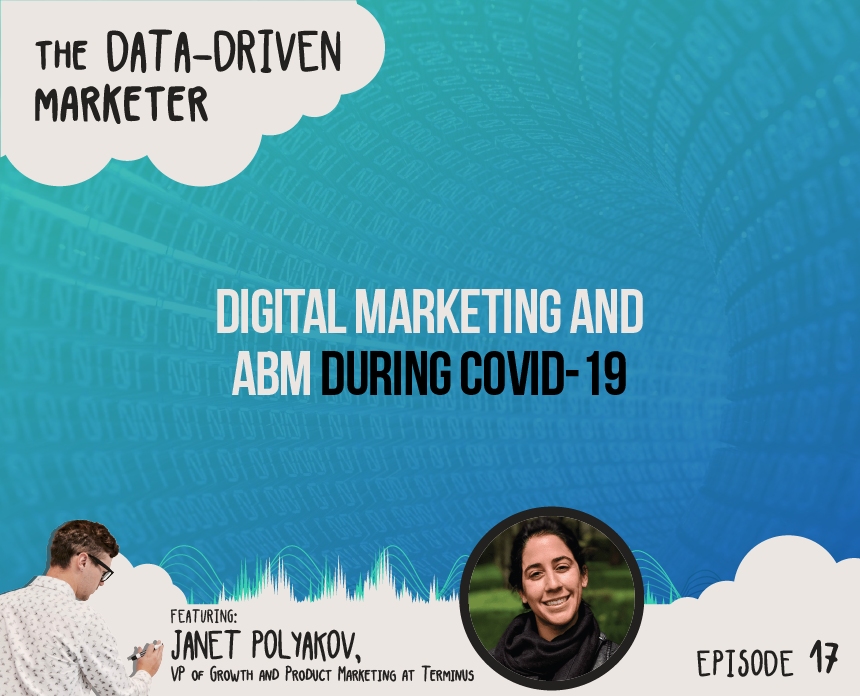 Digital marketing and ABM during COVID-19
We're truly in the middle of a once-in-a-lifetime set of circumstances. With most of the world being forced to work from home, and with events canceled across the board, a lot of digital marketing and ABM professionals are asking one simple question:
"How do we continue to build pipeline in the middle of a pandemic?"
It's a valid question, really. This pandemic is forcing everybody to re-think how they're doing business.
On the latest episode of our podcast, The Data-Driven Marketer, we hear from Janet Polyakov. Janet is the VP of Growth and Product Marketing at Terminus, and in this episode, we talk all about digital marketing and ABM during Covid-19 at Terminus, the Ideal Customer Profile, and what you can be doing in this new economy to keep ABM relevant.
What Makes Terminus Special?
ABM is everywhere these days.
It seems like every company is either implementing ABM now, or has attempted it at some point. A current Google search for "Account-Based Marketing" yields over 2.1 billion results.
Why? Because ABM works. But if everybody's doing it, what makes Terminus so special? Why is what they're doing any different than any other company doing ABM?
Terminus is building a full-funnel ABM platform.
But it's more than just, "How can I find customers who are a good fit and engage them at the top of the funnel?" Terminus looks at EVERY stage of the journey and deploys the same sophisticated tactics that are typically deployed only at the TOP of the funnel.
They enable marketers to take this full-funnel approach and deploy it throughout the entire funnel—because a one-size-fits-all approach just doesn't work.
Measuring Digital Marketing and ABM Engagement
The age-old question: "How do we measure engagement?"
The thing about age-old questions is that they usually have age-old answers. And the answer to this one?
It depends.
Much like how no two ABM accounts are the same, you can't measure engagement equally across accounts. For every account, you need to ask yourself the question, "What am I trying to accomplish, and what's the best signal that this account is ready to receive my message?"
The Ideal Customer Profile (ICP)
Most companies want to cast a wide net. Appeal to as many customers as possible.
After all, if you're employing a group of sales professionals, doesn't it make sense to have them try to convert as many leads as possible? To get as much as possible from that investment?
Janet and her team certainly don't think so.
As an ABM team, if you pour your focus and your resources into the accounts that are the PERFECT fit, the ones that are most likely to stay with you, the sales hours spent on those accounts actually pencil out far better for you in the long run.
You're making a large investment into a few accounts that you know are going to return revenue, instead of making a large investment in a lot of accounts that may or may not pay off in the long run.
Just as important as knowing your perfect fit accounts is knowing which accounts are NOT a good fit. And being okay with shifting your focus away from those accounts.
Digital Marketing, ABM and The New Economy
"Now more than ever, we're understanding that the companies who are going to win in this time are the ones who are able to very quickly refocus on customer retention, customer expansion, and customer satisfaction efforts," Janet says.
At Terminus, the digital marketing efforts of the ABM team is focused on what they call a 360 approach. It's a holistic approach to surround customers with the support they need to be wildly successful in ABM.
They're also embedding digital media managers into those accounts to help with the shift into the digital marketing space as the landscape is changing.
It's a wild time to be in Digital Marketing and ABM right now. To be honest, it's a wild time to be in any industry right now.
But if you're committed to doing things in a new and fresh way, you can use this challenge to create new opportunities and come out ahead.
This post is based on an interview with Janet Polyakov of Terminus.
To hear the full episode, and many more just like it, subscribe to The Data-Driven Marketer podcast on Apple Podcasts, or our website.