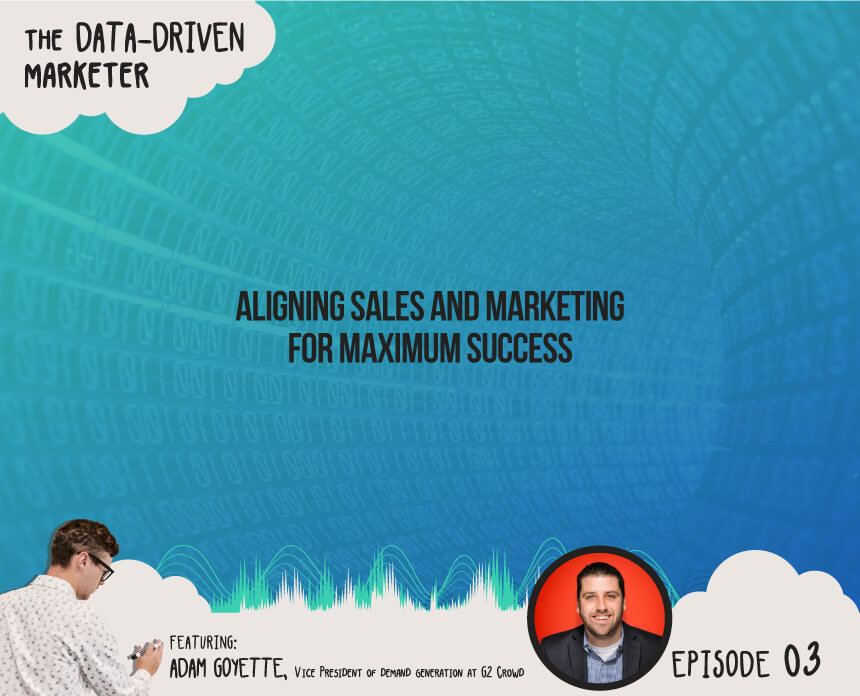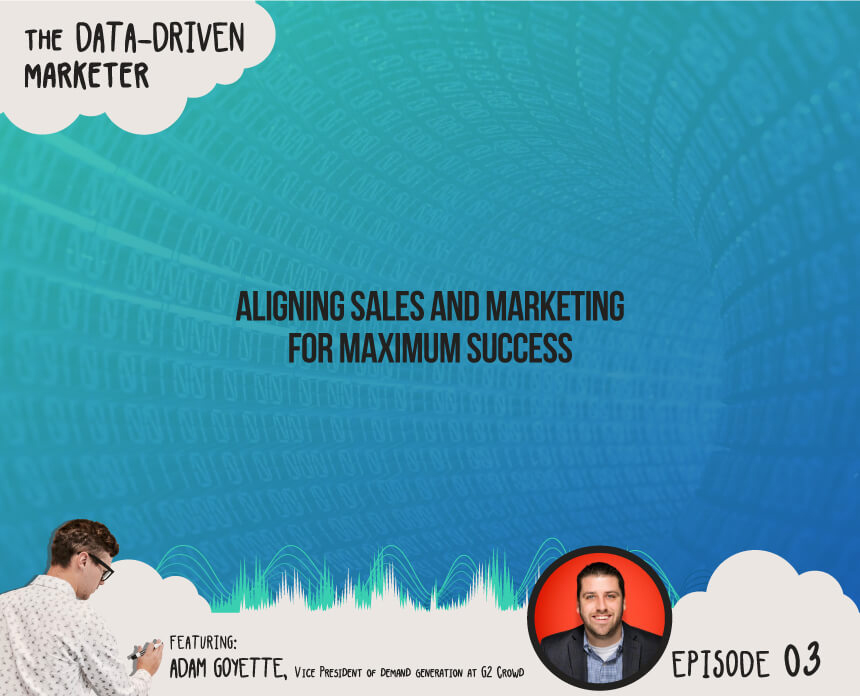 Blog | 3 The Data Driven Marketer EP 3: Adam Goyette – VP Marketing, G2 Crowd
Marketing's sole purpose is to help drive more sales. To do this, you need to align sales and marketing perfectly.
Adam Goyette, Vice President of marketing at G2 Crowd, the largest marketplace for B2B software in the world, has mastered sales and marketing alignment. He shared his expertise on how to drive more sales with us
Aligning sales and marketing for a bigger payoff
Marketing's sole purpose is to help drive more sales. All the other metrics that people like to focus on⎯impressions, engagement, MQLs⎯are meaningless unless they result in actual closed-won deals.
Marketing supports this by looking at the sales team's annual goals and monthly cycles and asking what kind of pipeline does sales need to hit these goals? If they're closing 40% of their opportunities, then they need X amount of opportunities to hit that number.
You need to start with the end sales goal and then work backward to get a marketing plan in place that supports that number.
It's helpful to maintain that marketing and sales alignment as you look at MQL and conversion rates. Those are leading indicators for the activities we expect to happen next: opportunities being generated and closed-won business.
We're measured off of pipeline generated and closed.
The importance of crashing meetings
The sales and marketing leadership teams should meet together once a week (Goyette does it every Monday morning) to go through what marketing is doing, the numbers you're delivering, the conversion rates, what's moving through the BDRs and how they're flowing, and then into the AEE. It keeps total and tight alignment.
"Total accountability makes for sometimes not so much fun on a Sunday night for the person preparing the numbers," said Goyette. But it's worth it.
You also should spend a lot of time with the BDR team, so meet with them weekly as well to go over campaigns and cadences. It's up to marketers to understand what's happening with MQLs? What's the cadence? What's the sales follow-up? Where can we optimize?
Ideally, as you align sales and marketing, both departments will "steal" ideas from each other and both become stronger.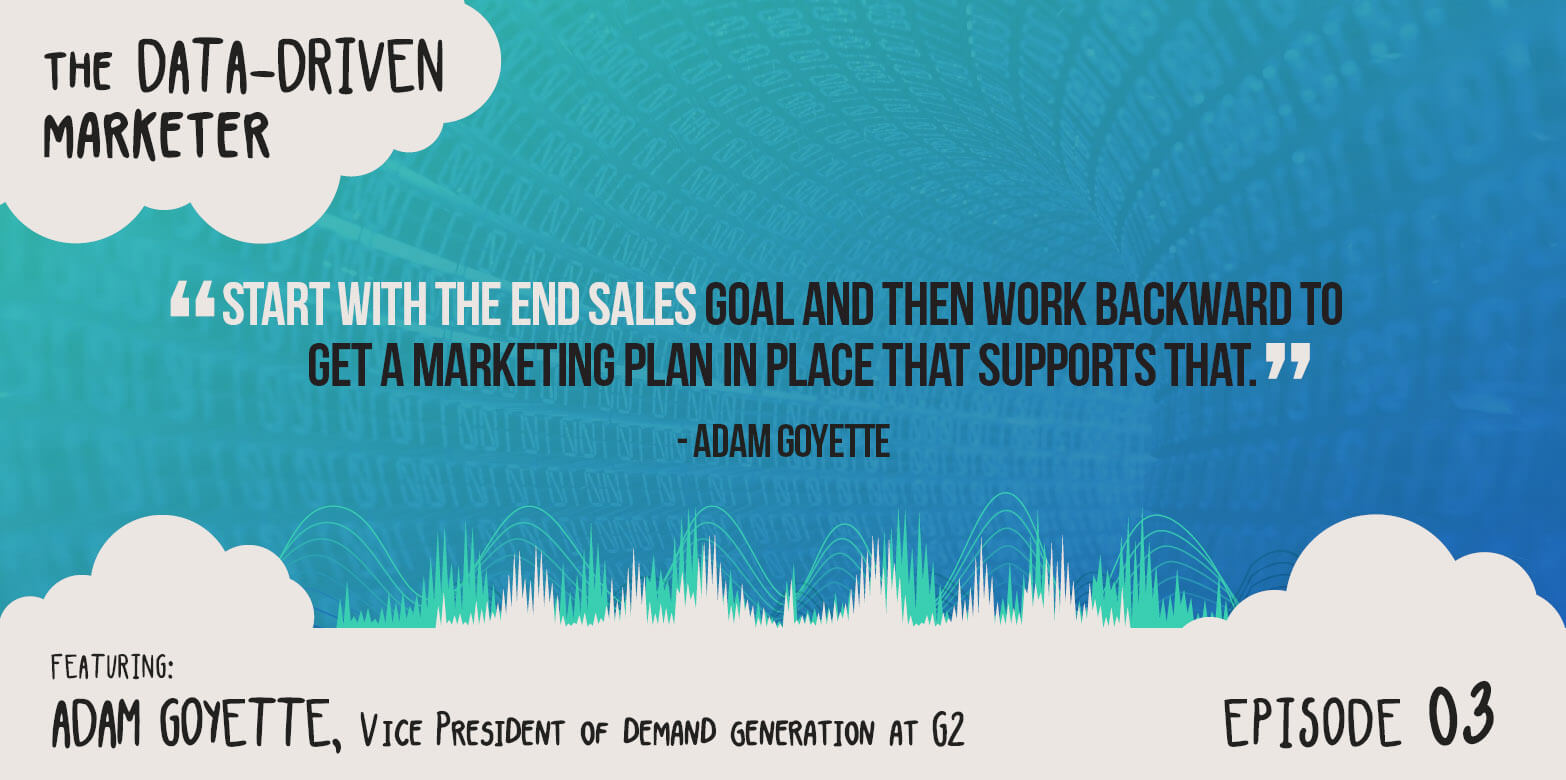 Staying ahead of trouble
Keep a close eye on how MQLs enter the pipeline and convert to revenue. Break down your pipeline by stage and then break that out to understand the segments. For example, how many are coming in from social channels? How many are organic demo request?
It's important to understand each funnel separately so you know where things might be breaking, which opportunities are performing better, where should you be doubling down, etc.
You'll also get some of the leading indicators, like conversion rates on landing pages. But in terms of the daily dashboards, these are the most important metrics:
Are we on pace for the MQL?
Are they converting at the rate we want?
If not, what's going on?
Staying on top of this info lets you address and solve problems earlier versus waiting until the end of the month and being surprised.
Making the most of a trade show
Before you attend an event or show, you want to establish your goals. There are some events that are truly like a brand fly. There won't be a lot of decision-maker business happening, but it's great for your brand to get out there.
If you're expecting ROI, it all comes back to sales and marketing alignment. Hunker down with the sales and marketing team to say, here's what we're expecting out of this. Companies that see success at events and good ROI are hyper-aligned before they even pack their bags.
If you have an event coming up:
Pull a list of all the sponsors because those are usually the companies you're targeting.
Go through all the companies attending. Look in Salesforce, and figure out who has the most open accounts, whether current customers or prospects.
That's how you determine which sales team member to send. Who can add the most engaging conversations and start outreach to those companies?
About a month out, schedule any meetings to take place during the show.
Take all the companies you want to visit and assign them out. You might have 50 companies you want to visit or start a conversation with, whatever touchpoint is needed.
Don't treat attendance at a trade show as a reward.
These steps help maintain accountability. Everyone there needs to be kept busy. You don't want your reps to treat an event like a party, or wonder what they're going to do for three days.
There's a lot of marketing effort that goes into show prep. But it all comes down to marketing and sales alignment. Because you build those relationships by having conversations with the sales team who are boots-on-the-ground.