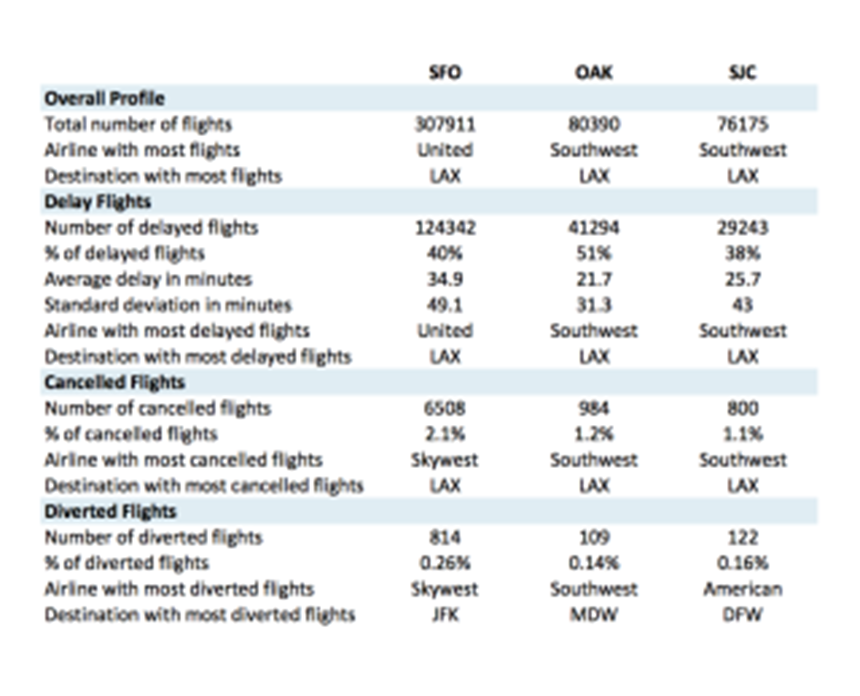 Open Data
The beauty of open data and interesting facts about SF Bay Area airports
If you haven't heard, there is an open data movement going on. Governments around the world are sharing their data with the public in efforts to promote transparency and innovation. The US federal government's data.gov website is a treasure trove of interesting data. The open data movement is still in its infancy, so most open data websites are simply repositories of CSV and PDF files. More advanced sites offer built-in visualization tools, including geospatial data. It's a great start.
We at Openprise love the open data movement and believe it will fundamentally change how governments interact with their citizens. We believe the true power of open data is when businesses can combine open data with industry (semi-private) data and private data to derive insights and create business automation. We also want to push the envelope on what people can do with open data. In your Openprise service catalog there is a checkbox called "Show Open Data Services". Check this to reveal the open data services that Openprise has curated for your convenience and amusement. Right now we have 3 services already available:
US domestic flights on-time records
Global stock market indices
California state contracts and procurement
We will soon have 3 more:
Currency exchange rates
Key interest rates
Weather
With these open data in Openprise, you can search, download, and visualize data, but also create your own do-it-youself automation.  Give it a try.

I have been using the US domestic flights on-time records data to demo our product. While poking around this data, I learned many things about airport and airline performance. As someone who travels a lot for business, I find these insights fascinating. So I thought I would share some of my findings with you fellow road warriors, especially those from the San Francisco Bay Area. I will post additional findings in future blogs.
This data set is a perfect example of what I call Goldilocks data. There are 500,000 domestic flights in the US every month. We have data from January 2013 to October 2014 (there is a 2 months delay), so that is a total of 12 million records in this data set and growing. Yes, air travel is a very safe form of transportation.

The attached table shows the key metrics for the three San Francisco Bay Area airports: SFO, OAK, and SJC.  Some interesting observations:
For just domestic flights, SFO handled 4 times the flights of OAK and SJC.  Of course SFO is also a major international hub.
United Airlines dominates SFO and Southwest is the king of OAK and SJC.  Not surprisingly, the most popular destination is LAX.
If you live in the Bay Area, you have probably heard the SJC radio commercial touting its superior on-time performance. So how much truth is there? Well, it depends on which metric. I looked at three key metrics: delayed flights, cancelled flights, and diverted flights. I know, diverted flights is really a function of the destination airport, but it's fun to look at it anyway. Some interesting observations that might influence your choice of airport.
40% of SFO flights are delayed, compared to 38% from SJC. Frankly that is a very small difference. OAK is the worst at 51%, a significant margin.
While OAK has the largest % of flight delays, it has the shortest average delay at 21.7 minutes. SJC is slightly worse at 25.7 minutes, and SFO is a whole lot worse at 34.9 minutes. OAK not only has the shortest delays, but also the smallest standard deviation on delay at 31.3 minutes. SFO has a very large standard deviation of 49.1 minutes, so your are more likely to see some very long delays at SFO.
SFO is significantly worse when it comes to cancelled and diverted flights. Roughly twice as high as both OAK and SJC.
Most likely diverted flights are ones heading towards JFK, MDW, and DFW.
Next time, I will share more data on delay patterns for these Bay Area airports.
If you want to analyze your local airports or most used airlines – or just have some fun look at your own sales and marketing data, sign up for a free Openprise account and see for yourself. You can download flight data from Openprise, or get it from the Department of Transportation.
Share your interesting findings in our blog comments.